A breezy new collection of main street shops
Michigan Mercantile is a new retail outpost set in beautifully restored downtown New Buffalo buildings. A clever embrace of both past and future, each independently-run shop has its own personality, offering unexpected treasures to gift, read, style, wear, and even eat. With former Ralph Lauren brand manager Julie Peterson at the creative helm, Mercantile shops are a rich expression of lake life—though you won't find anything that actually says 'lake life.'
Shore
Forget a light sweater for chilly nights on the lakeshore? You wouldn't be the first. Shore specializes in elevated, beachy clothing for men and accessories for every gender. You're likely to find sustainable, soft hemp t-shirts alongside flowered board shorts and fun octopus-print terry robes from indie brands with cult followings. Beach-day necessities like wide-brimmed hats and extra-large totes line the shelves of this luxe little shop.
10 W Merchant Street
New Buffalo, MI
Visit Website | View on Map
Lakeside Goods
Is it too soon to get my six-day-old niece a Vespa? Adorable (yes, mini) Vespa bikes are one of the most popular items at Lakeside Goods, a maximalist housewares store with an eclectic stock of hand-painted tableware, coffee table books, and impulse buys like leather dachshund bookends. You might find hand-blown colored glassware for your cottage, the perfect candlesticks for a housewarming gift, or an arty pop-up birthday card. In a phrase, Lakeside Goods is a masterfully curated treasure hunt.
100 N Whittaker Street
New Buffalo, MI
Visit Website | View on Map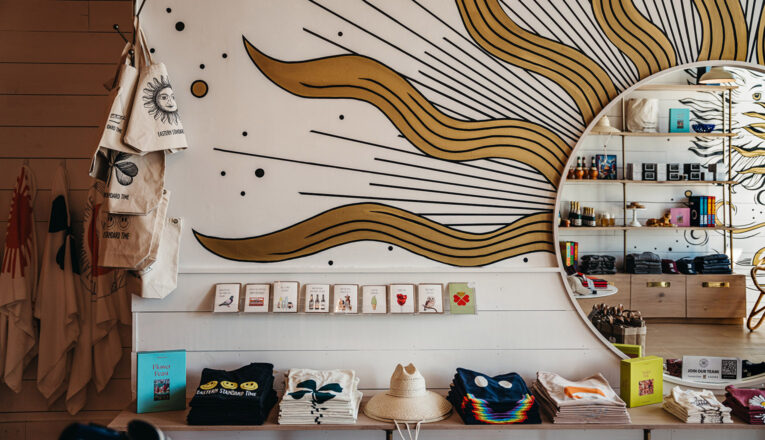 Eastern Standard Time
EST is a lifestyle brand that embodies the intuitive mental shift visitors experience crossing state lines from Central to Eastern Time. Here, the sun sets late, the pace is easy, and a cozy sweatshirt works in even the best restaurants. A funky-fun spot marked by murals and their signature graphics, EST is all about extra-soft clothes and playful gifts like sprinkle donut-shaped candles as hard to resist as actual sprinkle donuts.
110 N Whittaker Street
New Buffalo, MI
Visit Website | View on Map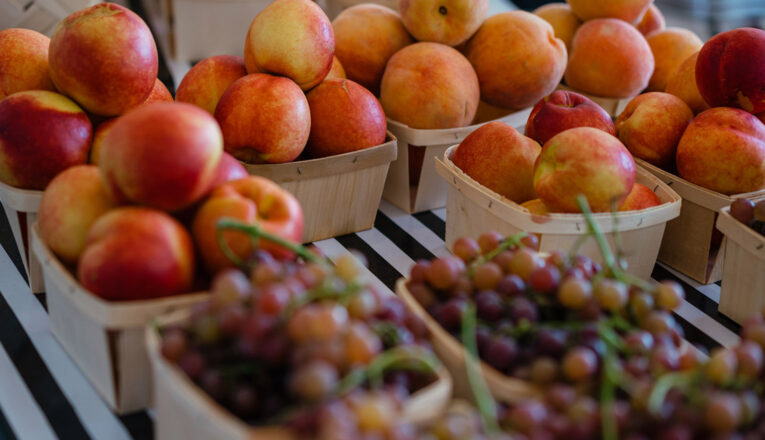 New Buffalo Farmstand
You'll walk through what feels like a secret courtyard to get to New Buffalo Farmstead, a charming little outbuilding behind the Mercantile. Mick Klüg Farm, a long-running family producer, stocks this gem of an indoor farmstand with sustainably grown local produce throughout the season, from summer blueberries to fall's sweet concord grapes to deep winter parsnips. It's essentially a farmers market every day, with fridges stocked with eggs, cheese, fresh pasta, sparkling drinks, and flowers from other local producers. As the team travels to markets and restaurants throughout Michigan, Illinois, and Indiana, they often bring back pantry items like chili crisps, hot sauces, and gourmet almond butter from makers on their route. Check back often to see what's new because it'll probably be delicious.
116 N Whittaker Street
New Buffalo, MI
Visit Website | View on Map
Local Tip:  In addition to their mainstay shops, Michigan Mercantile hosts pop-ups! Each with their own storefront, check out Lake Feste, a breezy women's beachwear boutique, and 108, a luxe little space for fine jewelry, Marianne Paquette handbags, cashmere throws, books, and large-scale Hugo Guinness prints.

words  Alex Beggs
images  Jamie Kelter Davis